iTools 7.3 for RedHat: A new way of administering your web server.
---
A new suite of tools is now available from Tenon to manage Apache as delivered by RedHat. iTools 7.3 lets you manage your in-place Apache, HtDig, Tomcat, MySQL via a web browser.
These advanced tools are based on years of experience managing Apache on the Macintosh platform. We've now extended our product to support RedHat and extended the architecture to deal with protocol implementations as delivered by the OS vendor. On Linux, iTools automatically picks up your current configuration and lets you add virtual hosts, realms, etc. via a point and click GUI over the web.
---
iTools 7 Features
---
iTools 7 is a different breed of internet server suite. iTools 7 combines the rock solid reliability of Apache 2 with the ease of use of web-based administration. This version of iTools is as innovative as the computers that run it. Whether you're a Mac user who's moving to Linux, a Windows users who's looking at switching from IIS to Apache, or a UNIX wizard who loves the idea of using server software like Apache on top of a state-of-the-art Linux server, this is the server suite for you.
iTools 7 is loaded with compelling features — like authorized service management. Internet service providers can assign administration task for a single virtual host to an individual user. System administrators can grant authorized users access to web traffic log summary reports.


iTools 7 features an iTools Administration Server, next-generation server administration software with XML protocol support. Not to mention a host of features and capabilities that will impress even hardcore Unix users.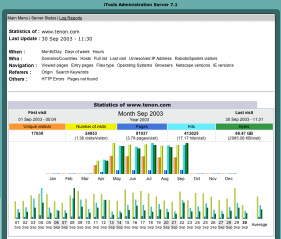 Log Summary Report

iTools log analyzer works as a CGI and in a few graphical web pages shows you all the possible information that your log contains. It uses a partial information file to be able to process large log files, often and quickly. Log Summary Report works for iTools Web Server,and iTools FTP Server.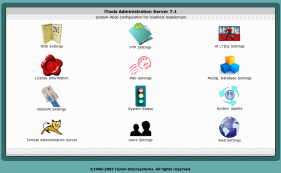 Enhanced iTools Administration Server User Interface

iTools Administration Server has been designed to minimize the amount of clicking needed to setup a virtual host. The remote file system browser provides point and click directory name completion. New modules and functions can be downloaded by point and click.

Downloads, Documentation & Installation Notes
---

Download iTools 7 for Linux.

iTools 7 User Guide
The iTools 7 Documentation. We highly recommend looking through the User Guide even if you are a seasoned Apache veteran, iTools contains many features and we wouldn't want you to miss any!
Looking for iTools utilities, documentation, or white papers? Check out the iTools 7 support pages. You can also read through the extensive iTools FAQ.
---