Connection Failure to Database. 2003: Can't connect to MySQL server on '127.0.0.1' (61)

Features:
---
Latest X11R6.4 X Window Release.

[Click Image Above for Larger Screenshot]

Rootless X Windows on the Aqua Desktop

Click Here to order.

Rootless display of X Windows.
Aqua Window Manager for seamless integration between Xtools and your Aqua desktop.
Full screen mode, where X apps are displayed on a "virtual screen".
Full copy and paste between OS X apps and X Window Apps.
Support for hardware accelerated OpenGL.
Full range of X extensions.
Mac OS X compatible 3 button mice/provides keyboard emulation.
Includes CDE (Common Desktop Environment) fonts
XDM (X Display Manager) capable.
About Xtools:
---
Xtools is an easy-to-use, flexible Mac OS X application that integrates the best elements of Apple's Aqua desktop with state-of-the-art X Window tools to provide a powerful extension to Apple's new operating system, Mac OS X. Tenon's Xtools for OS X (pronounced 'ten') not only allows remote X (pronounced 'X") applications to be displayed on the Mac OS X desktop, but also includes a complete set of X tools and libraries to support local execution of X applications and games on OS X. Extending Mac OS X with Tenon's X Window porting environment enables high-resolution 3D-modeling & animation, graphical visualization and image rendering applications to be built directly on Mac OS X.
The X Window System is an open source, industry standard for displaying remote graphical applications. X is highly portable, being both hardware and operating system independent, so users on one computer can work directly with applications on another computer. The X Window System allows enterprise-wide personal computer desktops to connect to mission critical applications and information-based systems on UNIX, Linux, and NT servers. Xtools on Apple's new Mac OS X Aqua desktop extends the reach and strength of Mac OS X, and enables Macs with Apple's new operating system to become the desktop of choice for all enterprise applications, be they local or remote.


In the News:
---
December 3, 2001 - Research Systems Announces Support for Apple's Mac OS X:
"...RSI will be providing a native release [of IDL and ENVI] using Tenon Intersystems' Xtools X Window server..."
Mac Review Zone's Article by Michael Stoton, a guest reviewer for the site, titled: "Hard Cider: Bypass Aqua And Get Right To The Beast! - OS X For People That Don't Like OS X"
MacAddict's review of Xtools from the August 2001 issue.
Downloads and Support:
---

Download Xtools for Mac OS X Now!
UPDATED! (Current version: 1.2 -- February 20, 2003)
Note: Following the above link will give you access to download the Xtools package, updates and documentation.
---

Xtools Support Page
Looking for Xtools FAQ, support, or documentation? Check out the new support page for Xtools.
---

3rd Party applications
We have compiled a list of Third Party X Applications that we think you might find helpful in building, maintaining, creating and/or analysing X applications with Xtools.
---
Xtools (1.0.3) has been honored with the following awards: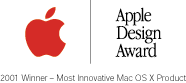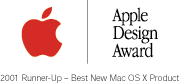 ---