General Purpose Interface (GPI) Serial Cable



---
MachTen is able to support the Macintosh General Purpose Interface (GPI) serial input. With properly constructed cabling (see Figure below), MachTen will be able to simultaneoulsy support hardware flow control and carrier detect modem control transitions. Many Macintosh modem manufacturers make cables that do not include a cable connectin the GPi input (pin 7) and the DCD output (pin 8). This means that treatment of the GPi input within a Macintosh can give wrong information concerning the state of the DCD signal. See MachTen Serial Device files and MachTen Modem interfacing for more information.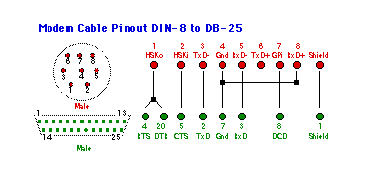 General Purpose Interface (GPI) Serial Cable
Cables with this wiring scheme can be obtained from several sources. The Celestin Company, Kingston, WA. 800-835-5514 or 360-297-8091 offers the CompUnite High-Speed Mac Modem Cable(Available by mail-order). MachTen customers are using this cable quite successfully. It can be purchased for about $14.

---