XTen from Tenon Intersystems
A Unique X Server for Power Macintosh

24-Bit Color .... X11R6 Compliance ....Unparalleled Performance

Features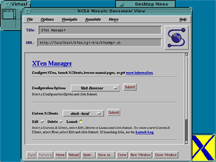 Fully X11R6 compliant
Uses OpenTransport
Supports 8-, 16- and 24-bit color
CDE fonts included
Supports secure shell X connections
Accelerated for Power Macintosh
Remote Font Server support
Includes XDM manager
Includes Font Server
Includes over one hundred X clients
X Display Management (xdm) support
Unique Web-based XTen Manager for system configuration & X client launching
Supports MS WindowsTM applications in conjunction with NTrigueTM
Includes OpenLook Virtual Window Manager & Motif Window Manager
X Imaging Extension (XIE) for enhanced X server image display
PEX 5.1 3D graphics Sample Implementation

About XTen
XTen is a high-performance X server that lets you view X Window applications on the Macintosh desktop. XTen, Release 6.1, supports 24-bit color and adheres to the MIT X11R6 standard. It is a flexible Macintosh application that can be easily tailored to suit individual requirements. The XTen Manager lets users configure their X environment by using a Web browser. This point-and-click Web interface can also be used by a systems administrator to centrally configure a site's XTen platforms. XTen 's multi-threaded architecture lets local and remote X applications run alongside Macintosh applications, making the Power Macintosh a serious tool for distributed X Window environments.
Tenon's technique of bypassing QuickDraw and sending the X drawing primitives directly to the hardware screen buffers makes XTen the fastest X server on the Macintosh market. And XTen is the only X server that includes a local X client execution environment. XTen includes the AfterStep window manager, an OpenLook Virtual Window Manager (olvwm), a Motif Window Manager (mwm),and hundreds of X clients. XTen supports ICCCM 2.0, CDE fonts, scalable fonts,font compilers, the X image extension (XIE), and the PEX 5.1 protocol Sample Implementation.
XTen not only supports the X Display Management Control Protocol (xdmcp),but can be configured as an xdm manager. Further, it can be configured to use a remote font server or be a font server itself. In addition, XTen includes a full-featured, high-performance MCP/IP protocol that can be used for increased performance. Apple's Open Transport can be used also.


About X Windows
The X Window System standard is a multi-layered set of rules for the interactive display of application program data. X operations are typically network-based. An application running on one computer can exchange text and graphics with a remote display, keyboard and mouse. Using the X Window System standard means that applications can be easily supported on hardware displays and operating system software from different manufacturers.
X Window client software generates requests to display text and graphics and hands them to a network for transport. The X Window server software receives the request and translates it into operations that are meaningful in the context of the local hardware. All of the specific programming about display, keyboard and mouse operations are translated between a standard form - the X Window System standard - and the local hardware.


System Requirements
XTen is a Power Macintosh application. It runs on any Power Macintosh or Power Macintosh clone, and is compatible with all modern versions of the Macintosh Operating System 7.5 to 9.0.4. 16 MB of RAM are recommended. Available on CD-ROM only.
The package consumes between 20 MB and 40 MB of hard disk space, depending upon how many X clients and fonts are installed.

©1998 Tenon and XTen are trademarks of Tenon Intersystems. X Window System is a registered trademark of Massachusetts Institute of Technology.
---
[ Top of Page ]